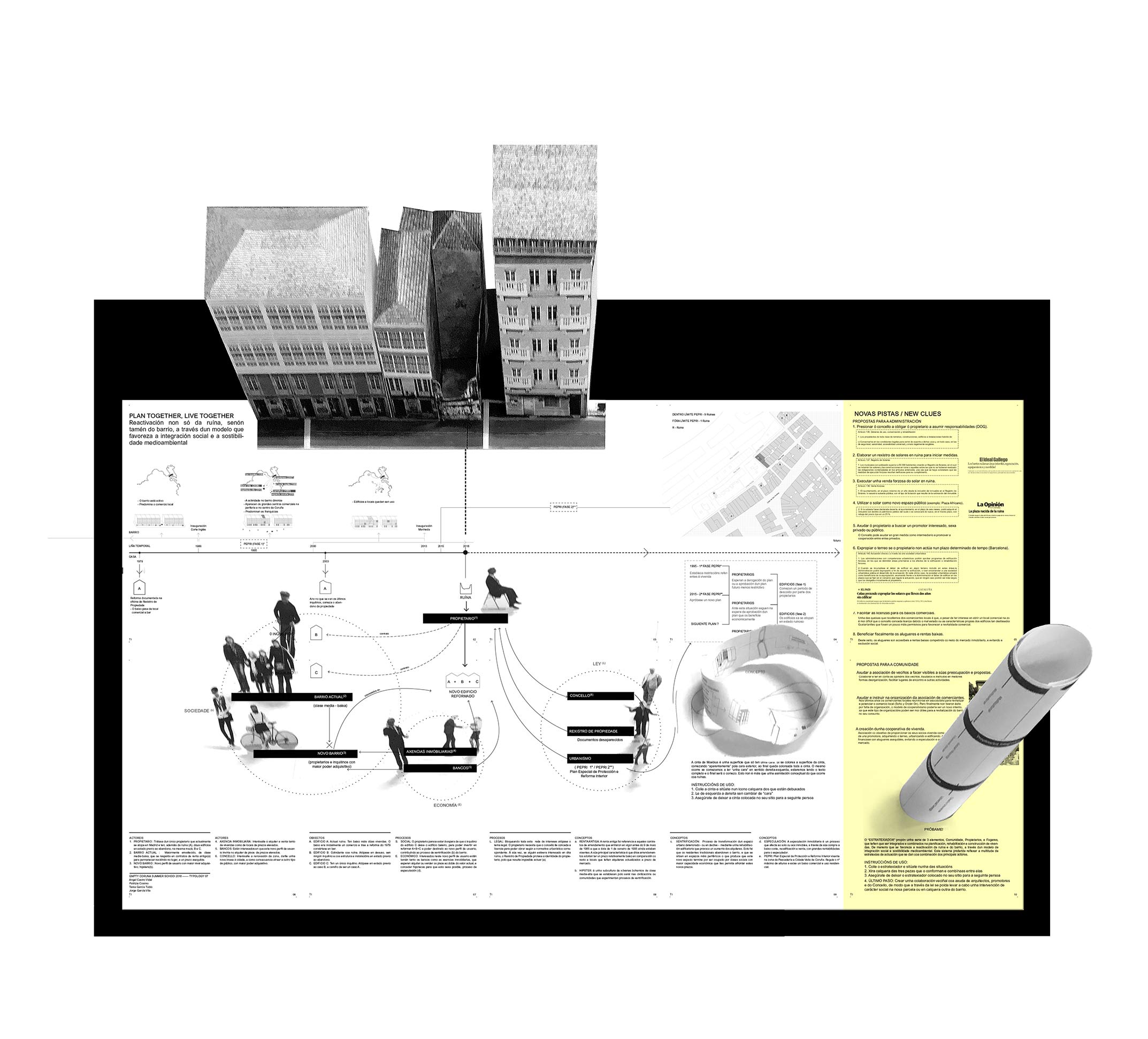 Neighbourhood reactivation focused on social integration and environmental sustainability

Typology 7: ruin

Ángel Castro Vidal, Jorge García Vila, Patrizia Cosimo, Tania García Tubio

Research Question
The Group investigates through building age profiling how the "Plan Especial de Proteccion e Reforma Interior" (PEPRI) interacts with a ruin in the center of coruna. The research focuses on finding proposals for the government and for the local community.

Research Methodology
The action network visualizes the timeline of the decline of the areas commercial businesses due to increased construction of shopping centers around the periphery of coruna, the development of the PEPRI and the gradual decline of the building into a ruin. Investigating actors in society, economy and the law it reveals a possible strategy by the owner to let the building fall completely into ruin speculating on a permit that would allow him to build a new building and connect it then to the two adjacent buildings, which belong to the same owner.

Proposal
The group offers three sets of proposals. First a list of 8 points aimed at the government including creating a register of ruins, forced sales, temporary public spaces and tax incentives for owners who contribute to socially relevant projects among others. Second proposals to the community, especially neighbourhod associations to increase public visibility of their work, creating a commercial association and creating a housing association. Third the team developed a so called "estratexiador", an ideas creator, that combines 3 elements: Community, Owners and spaces, combining them in a various ways. Having come up with an interesting combination, as a last step the estratexiador recommends those who use it to create a neighbourhood group that with the help of architects, promoters and the council then can develop a social intervention in their ruin, or any other of that sort.

----

A reactivación do barrio centrada na integración social e na sostibilidade ambiental

Tipoloxía 7: ruína

Ángel Castro Vidal, Jorge García Vila, Patrizia Cosimo, Tania García Tubio

Pregunta disparadora
O Grupo investiga a través da creación de perfís de idade como o "Plan Especial de Protección e Reforma Interior" (PEPRI) a intervención nunha ruína no centro da Coruña. A investigación céntrase en atopar propostas para o goberno e para a comunidade local.

Metodoloxía da investigación
A rede de acción visualiza a liña de tempo do declive das áreas comerciais a causa da intensa construción de centros comerciais en toda a periferia da Coruña, o desenvolvemento dun Plan Especial de reforma Interior da zona e o deterioro gradual do edificio en ruína. O estudo dos actores sociais, da economía e da lexislación desvelan a estratexia que posiblemente seguiu o propietario para que o edificio deveña en estado de ruína, o que lle permitiría construír un novo edificio. Posteriormente conectaríao aos predios estremeiros, que pertencen ao mesmo propietario.

Proposta
O grupo ofrece tres conxuntos de propostas. A primeira, destinada ao goberno propón a creación dun rexistro de ruínas, a proposición de vendas forzadas e de incentivos fiscais para os propietarios que contribúan a proxectos de relevancia social, entre outros elementos. Segunda proposta: para a comunidade, especialmente ás asociacións veciñais, para aumentar a visibilidade pública do seu traballo, crear unha asociación comercial e crear unha asociación de vivenda.En terceiro lugar o equipo desenvolveu un chamado "estratexiador", un creador de ideas que combina tres elementos: comunidade, propietarios e espazos, combinándoos de varias maneiras. Ao chegar a unha interesante combinación, como último paso o "estratexiador" recomenda aos que o utilizan crear un grupo de veciños que, coa axuda de arquitectos, promotores e o concello, poida desenvolver unha intervención social na súa ruína ou calquera outra intervención relacionada.



Architecture
Javier Harguindey
Interested in uncovering the links between forces that shape the urban environment (social, technical,…) with focus on the demographics and data.


Architect / Urbanist, UDC
Interested in building up a research methodology to address key questions on identification and classification of the issue. Interested in understanding what has the "crisis" left behind and to establish a scientific method by which to address it. Interested in exposing academia to "real life" contexts and setting the teaching conditions to ensure that the classroom is not committed to supporting such practice that facilitates such crisis.

Architecture Professor UDC
Scott Lloyd
Interested in understanding the actions, networks and forces that give shape to the city. Interested developing new models of applied research to investigate the issue. Interested in the format of teaching to inform and empower the next generation of city makers.

Xosé Lois
Interested in analysing what can be done with existed buildings with the notion that each example is of itself a particular context. This takes into account the relations between different components of the systems that shape the building context.

Population and the role of Galicia in state policy where real state is one of the main economic motor of economic growth.

This is a very complex situation, we cannot propose just one question, as the project is develops, questions will appear. What kind of economic model we want? Rental or production? What kind of country do we want? We destroy our productive model and now we have a speculative model based on construction of space

Hans-Christian Rufer
Interested to create access to affordable housing. Interested in a multidisciplinary approach that corresponds to the complex environment of housing. Interested to use the architecture studio as a place to integrate the diverse range of partners into site specific projects.
Sociology
Dr. Estefanía Calo
Interested in recovering links between the right to housing and the right to the City: both are under threat and both are required in order to achieve urban justice. Interested in establishing Empty Coruña? is a first stage to develop knowledge about how to resist this systemic threat against basic citizen rights.

Economics
Anxo Calvo
Is the market able to solve the problem by itself or should we be looking for regulatory solutions? What regulatory frameworks are available and appropriate for Coruña?

Roberto Castro Thome
Interested in the question of regulation as nothing is possible from a single bank with even the ethical banks that are trying to do something having no success. Furthermore interested in the Valuing agencies as they overvalued housing during the creation of the bubble.
Banker, Association Pro-Housing
Ecology
Fernando Del Llano
Interested in researching the current conditions as an environment issue focusing on energy and economic point of view.



Environmental Scientist, UDC
Ángeles Longadera
Interested in researching energy efficiency, energy "pobreza"


Environmental Scientist, UDC
Urban Studies
Manuel García Docampo
Interested in investigating a research methodology that encompasses the three dimensions of: Agency – Processes – Objects


History
José María Cardesín Diz
Interested in researching urban growth and development of 7 cities in Galicia during the crisis in order to compare them with A Coruña

Activism
Ricard Leonardo
Interested in researching the formal administrative tools utilised to frame and criminalize "illegal" occupation. Research should take a critical point of view and investigate what people do by themselves to solve the problem.

Architecture
Student
Michael Juan Sierra

Sonia Beltrán

Interested in researching the right to housing

Interested in researching the social problem of the crisis and how these are urban issues


Architecture Students / Mapping team, UDC
Geography
Amal Nnechachi
Interested in the human side of the crisis as hauman rights are being undermined. Drawing from experiences of colleagues who have suffered directly from the housing problems.

Alberto Varela
Interested in mapping and understanding the effect of the crisis in the urban context in order to visualize the problem. In order to identify the problem the social point of view should be taken into account through information tools and extend the study to other cities.

Building Engineering
Santiago López
Beatriz


Interested in researching technical approaches to improving environmental issues and to minimize the environmental impact of empty buildings. There is a social interest in this approach.

We should complete empty buildings taking into account alternative materials and techniques and develop innovative environmental building techniques.